SFASA at Stanford Football!
SFASA at Stanford Football!

Saturday, November 5, 2022
Stanford v. Washington State
SFASA Tailgate: 10.30am-12.30pm Kickoff: 12.30pm
Tickets: Just $10 each ($35 value) for autism and special-needs families. We will transfer your tickets to you via email or text. There are no paper tickets. *Tickets are not refundable.*
Tailgate includes: sandwiches, chips, cookies, beverages and music!
Location: The tailgate will take place in Lot 2, off El Camino Real.
**Text 408.314.1655 after 10.15am on game day for the exact location in Lot 2.**
Parking: We recommend you either pre-pay for Stadium parking through the Stanford Athletics website or find parking elsewhere on campus. (There are usually handicap spots available in several nearby lots.) Expect to walk 10-20 minutes to reach the tailgate.
Seating: We will be seated together in the end zone.
Clear bag policy: Stanford has a clear bag policy. Read it here. You can check in other bags or parcels at a tent near the gates.
Hats and jackets recommended.
DEADLINE TO REGISTER: NOVEMBER 4 BY 12 NOON!
Buy Ticket Here
*Email & phone number both required for registration*
*Sorry, due to the need to purchase tickets from Stanford there are no refunds.*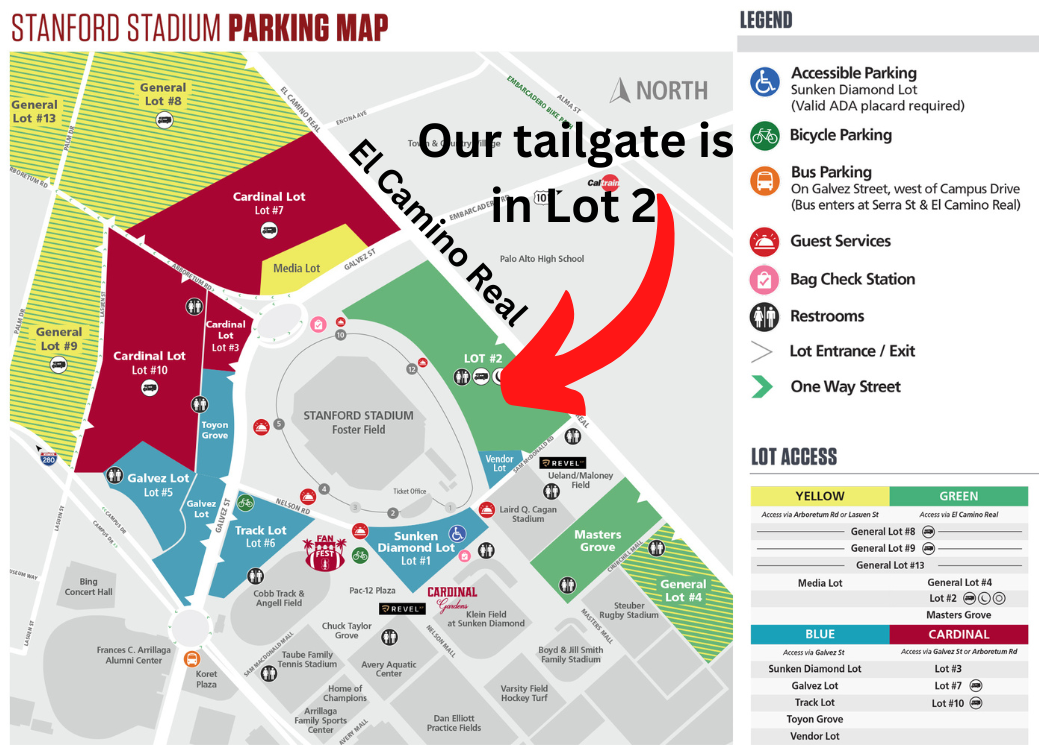 Related Events