UCSF STAR Center for ASD & NDDs
Offers state-of-the-art, evidence-based, comprehensive assessment, treatment, and support for people with ASD, developmental delays, learning disabilities, and intellectual disabilities. The STAR Center also provides parent support and helps them to connect with local resources.
The UCSF Center for ASD and NDDs represents our commitment to excellent programs in Service, Training, Advocacy, and Research within the context of one of the world's leading major academic centers. Our goals are to lead the way to better understanding, treatment, and promotion of well-being for people with autism spectrum disorder (ASD) and other neurodevelopmental disorders (NDDs). Our services for individuals across the lifespan are conducted by teams of trained professionals who, in collaboration with researchers across UCSF and around the world, apply the latest evidenced-based assessments and treatments. We are also dedicated to sharing our knowledge.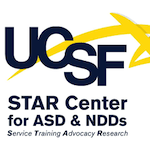 ---
Research Studies
Recruiting Now
Last updated: 2/14/2022
Please email us with information about new or expired research studies:


[email protected]
---
Audio Processing for ASD
(Toward creating Behavioral Informatics for ASD through Rich and Efficient Audio Processing)
Researchers at the UCSF Center for ASD and NDDs are looking for parent-child pairs to participate in a study with the purpose of creating audio systems in support of advancing behavioral research and clinical applications for children with ASD.
$100 eGiftcard for participation.
---
Focus Group Studies
An ongoing challenge for research and practice in autism spectrum disorder (ASD) and related neurodevelopmental disorders (NDD) is how best to manage the exceptional heterogeneity of the clinical phenotype when measuring severity and changes in symptoms and how to capture socially valid and clinically meaningful outcomes in evaluation and treatment.
$25 gift card for participation.
---
SPARK Adult Mental Health and Service Study
Poor mental health is an urgent concern for adults with autism spectrum disorder (ASD), contributing to increased risk for suboptimal long-term outcomes. Depression is particularly prevalent, with reported rates of lifetime diagnosis as high as 70%. With a major lack of data on long-term depression trajectories and possible effects of life changes, it is essential to follow these adults longitudinally to understand how depression manifests in adults with ASD over time. Given that there are constant changes in people's lives, understanding whether and how the change might have an impact on the lives of young adults with ASD and how they are adjusting to the changes. Specifically, the changes over a longer period of time could help understand the stability of depressive symptoms in adults with ASD, and the longitudinal effects of life changes over time. In turn, the findings might provide information and guidance on how different life factors interact with each other and identify potential treatment targets that could help improve the well-being of individuals.
---
PRONTO Lab
---
KimLeventhal Lab
---
Sherr Lab
Brain Imaging and Cell Signaling: Insights into the Biology of Autism
Autism spectrum disorders (ASD) are characterized by core social deficits and effect an estimated 1 in 88 children in the U.S., but remain poorly understood. In order to better understand ASD and the social deficits within it, we are looking at biochemical changes in the blood as well as brain anatomy in macrocephalic children ages 6-13. Through a variety of brain imaging methods including functional magnetic resonance imaging (fMRI), diffusion tensor imaging (DTI), electroencephalogrpahy (EEG), and magnetoencephalography (MEG), we will compare the brain anatomy of those diagnosed or considered at risk for ASD with healthy control participants while also evaluating blood samples, neuropsychiatric survey responses, and in-person cognitive testing. Better understanding of the link between brain anatomy and ASD diagnosis could lead to improved treatment methods and interventions, as well as an overall understanding of the biochemical changes that take place in the brain with ASD. *** Click here to find out how to participate.***
---
Autism clinical trials at UCSF
---
SNAP Lab
Sensory Neurodevelopment & Autism Program
Study Director: Elysa Marco, MD; Pratik Mukherjee, MD PhD; Sam Payavbash MD
Sponsor: National Institute of Health
Recruiting?: Yes
Official study title: Neural Mechanism of Sensory Over-Responsivity
Conditions studied: Auditory and tactile over-responsivity
Purpose: The purpose of this study is to directly assess auditory and tactile over-responsivity, cognitive control, and visuomotor control to determine whether there are unique neural networks that contribute to these sensory modulation differences. This is done through diffusion tensor imaging (DTI).
---
Paused due to COVID restrictions:
Lumbar Puncture Study 
Sponsoring Institution: UCSF
Eligible Participants: Anyone between 2 and 21 who has a clinical indication for a lumbar puncture, who is not undergoing oncological treatment
About the Study: Researchers are examining the link between oxytocin and social functioning in autistic individuals and controls, to determine if those with ASD have lower levels.
What's Involved: A small amount of additional cerebrospinal fluid collected during the LP.
For More Information: Contact Kendall Parks at (415) 502-8039