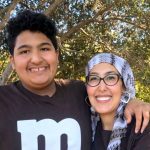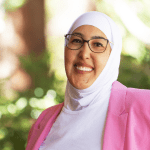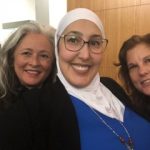 Feda Almaliti
It is with great sorrow that we inform the community that in the early hours of Saturday, September 26, 2020, Feda Almaliti, Vice President of the San Francisco Bay Area Autism Society, VP of the National Council for Severe Autism, fearless advocate, devoted mother, irrepressible friend, and tireless advocate for ASD families was lost in a tragic, accidental fire at the family home.  Her son Mu, found cradled in his mother's loving embrace, also perished in the fire.
Feda was a remarkable woman whose loss will be felt by so many. She threw a huge blanket of warmth and joy over the whole Bay Area autism community. She cared deeply for every family and never backed down when someone needed a warrior by their side. With a giant heart, an infectious smile, a stinging wit, and an encyclopedic knowledge of the labyrinthine bureaucracies of school districts, insurance companies, and ABA providers, Feda helped countless parents navigate the most difficult of situations.
With tireless devotion to the cause, Feda threw herself into countless projects on behalf of our community—conferences, webinars, pool parties, sports events, hikes, parent events—you name it. She wanted to provide families with practical, tangible help that would make their lives better, and she did everything with humor and fun. Feda had no patience for boring or irrelevant, cliched nonsense. Outspoken and feisty, Feda brought a sparkling, forward-thinking attitude to bear in her advocacy for the entire autism community.
We are devastated.
The ASD Community has lost a Great. In the early 2000s, Feda battled the insurance companies, demanding that they provide behavior services for ASD individuals. She took her fight to the California Legislature and won. Her success in this alone leaves a lasting legacy that will impact so many in our community.
But there is so much more. Feda's infections smile and exuberant energy. Her dedication to her immediate family and to her larger, ASD family.  Her welcoming spirit and understanding ear.  Her love for those who needed help, her love of helping, of making someone's life a tad easier.
She gave us hope for a better tomorrow.
She is love.
She is kindness.
We carry her energy in our hearts and honor her.
May peace be upon her and her much loved Mu.
-Denise Haas, President,
and the ASASFBA Board:
Jill Escher, Cristina Moretto, Anne Blenman Hare, Mawuko Nyuaidzi,
Martha Johanson, Alexander MacInnis, Michelle Condit, Susan Andrews,
Tracey Chew-Bullock, Kyle Daniels, Janet Heathcote
"Goodbyes are only for those who love with their eyes. Because for those who love with heart and soul there is no such thing as separation."
― Rumi