From Housebound to Hiking Mt. Tam
From Housebound to Hiking Mt. Tam
How Love and Determination Helped an Autistic Boy Break Through Neurosensory Barriers
By Lisa Louis
My favorite childhood memories include the creeks, fields, and forests of the Adirondack foothills where I grew up. The sound of wind blowing through pine trees, the babbling of a fast-running creek, glorious multi-colored sunrises and sunsets, the feel of a dirt path under bare feet—I looked forward to sharing the great outdoors with my own children someday. The easiest thing in the world for me—enjoying the magic of nature—was much harder to share than I'd imagined. Autism has a remarkable way of turning one's expectations topsy turvy.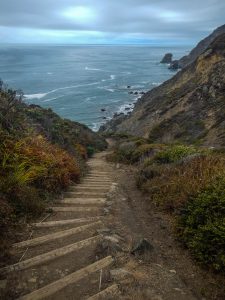 Each person affected by autism has a unique story. For my son Sean, sensory processing issues, food and environmental allergies, paralyzing anxiety, and extreme difficulty with communication made being in the outside world overwhelming. We took him and his older brother for nature walks when they were younger, but instead of expanding, our horizons narrowed as Sean approached his teen years and his challenges became more extreme.
Riding the school bus became impossible when another student started screaming during bus rides. Sean's sensory overload and anxiety became so crushing that he even rebelled against going to school by car. We'd spend forty-five minutes convincing him to get in the car, drive half an hour to a speech therapy session, and have him refuse to leave the car to walk to the building. He—and by extension our whole family—became virtually housebound.
We were on the verge of despair. We worked with many excellent therapists who had experience with children on the autism spectrum, but we were still stuck. We made incremental progress and never gave up hope, but no one was able to unlock Sean's defensive barrier.
In an era of Sean literally hiding under a blanket, a brilliant young teacher came into our lives. "Autism whisperer" David had just earned his Master's in Special Education and agreed to work with Sean privately. When he asked me what activity I wanted to do with Sean, I said, "Hiking!"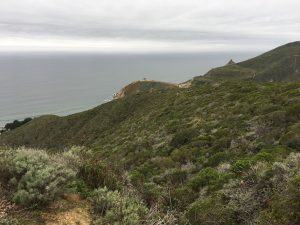 Through intuition, determination, and a gift for understanding children who think differently, David quickly convinced Sean to spend time on beautiful Bay Area hiking trails. Though Mother Nature tosses in sensory triggers like strong winds, bright sun, extreme heat and cold, hikes soon became the highlight of Sean's weeks.
Our family miracle turned to devastating loss when our wonderful helper David passed away suddenly from an undetected health issue. Daunted but not defeated, we mustered the courage to reach out again and kept walking forward. With help, Sean tried previously unimaginable activities like rock climbing, sea kayaking, and overnight stays in mountain cabins.
We now have the privilege of sharing walks on Pacifica nature trails, Marin hilltops, and Half Moon Bay beaches with other autism families. It's as much of a joy to see an eight-year-old who needs fidget toys and multiple breaks walking a quarter mile as it is to see a twenty-year-old forging ahead confidently on a steep trail. We've exchanged smiles and trail time with many families—some hiking for the first time. Not only do I get to appreciate the uplifting power of nature with my autistic son, but he also experiences it as part of a community with other families on group hikes.
Sean's beloved teacher said to him repeatedly, "You can do it! Try again." Whatever struggle you or a loved one may be facing, don't be afraid to reach out for help. Someone will gladly walk part of your trail with you. Keep putting one foot forward!
---
About the Author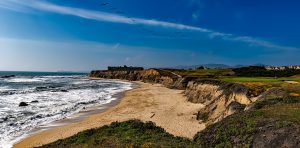 Once trapped at home due to her autistic son's neurosensory issues, Lisa Louis now shares the joy she and her son found through hiking at HikingAutism.com. Lisa and her family lead other special needs families on monthly nature hikes in the San Francisco Bay Area. She is at work on a book to inspire caregivers to help autistic persons get outdoors and into nature. When not tromping through the woods, Lisa is a technical translator of Japanese.